Learn practical ways to heighten your home's health when the indoor air quality is in question.
Over this series, we've explored the household materials and products that can muddle your home's indoor air quality creating health issues for you and those in your family. In today's post, know that you're armed with all the relevant information, we'll give you tangible ways to make your home environment healthier.
Insight Homes is committed to the health of our residents at The Peninsula on The Indian River. There are a myriad of outdoor activities that range from open space trails for walking, biking, and running to golfing at our Jack Nicklaus golf course — this Delaware home community has something for everyone.
Practical Ways For a Healthier Indoor Space
Now that we have an idea of what can impact our health indoors in relation to the materials and products we use, let's shift the discussion to what we can do to create a healthier environment.
Choose Low-VOC or VOC-Free Paints
VOCs are disadvantageous to our health, so the natural remedy to this is to invest in a healthier paint. There are many options on the market, and contrary to what most believe, there is a wide variety of colors on the market to suit the hue aesthetics for everyone.
When shopping for a less toxic paint option, look for a product that is labeled "natural" or "non-toxic" in addition to having VOCs that are 5g/L or less.
Invest in Non-Toxic Flooring and Furniture
Wood is oftentimes treated with a myriad of harmful chemicals, so opting for non-toxic flooring is a great option. Research your options and talk with your local interior designer about the best options for your home.
To keep your furniture non-toxic it's important to consider that no flame retardants or chemical treatments are used, that it's solid wood and not a MDF variety, and that it's low-VOC or VOC-free.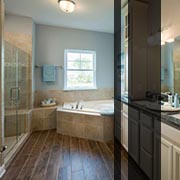 Try a More Natural Air Freshener Approach
Scents are amazing — they can calm us and they can put an extra pep in our step. Everyone wants a home that smells nice and ushers a comforting scent. You can easily do this in a more natural, and healthy way.
Start by reading the labels on your products — ensure that there are no synthetic fragrances and that essential oils are instead used.
You can also mix up your own natural air freshener by adding water and essential oils to a spray bottle. Give it a good shake before each use, and even customize your own scent.
Add Plants
One of the ways out indoor air quality can be impacted is because we're not getting enough airflow through — the ventilation is impaired. This causes the toxic chemicals to build up with nowhere to go, so they stay in our homes and we breathe them in.
Plants are a wonderful way to oxygenate the air and get things moving. There are even plants that remove indoor toxins. Stock up on the following:
Areca Palm
Bamboo
Rubber plant
Lady Palm
From low-VOC paints to houseplants, there are many ways you can improve your Delaware home and its indoor space to boost the health of your home so everyone thrives!
If your health is a priority, begin your journey in choosing specific products and materials to be used in a new home build in The Peninsula on The Indian River Bay! Together we can craft the home of your dreams in a golf course community that beckons to your wellness and provides endless opportunities to health!
To tour and get to know the community that houses the Lakeside Village Athletic Center, Calmwater Spa, nature trails, Terrace Grille, Jack Nicklaus golf course, and beyond, connect with us today!